The Diamond Bessie Murder Trial is a unique adaptation of the last stages of a nationally famous trial which actually took place in Jefferson, Texas. This trial of Abe Rothschild for the murder of the beautiful Diamond Bessie stirred the passions of people across the nation. The case was of such importance that several of the attorneys who participated in it then held or later reached positions of state and national prominence, including United States Congressman Dave Culberson and Charles A. Culberson who was later to serve Texas Attorney General, Governor and United States Senator. The case itself set a number of legal precedents which are followed in Texas to this day.

The trial began in the early part of 1877 and continued through three trials extending over a period of seven years. During all these long proceedings, Abe Rothchild was held in jail without bond. This play covers the last hours of the case, and the end of the dramatic proceedings.

The Diamond Bessie Murder Trial is sponsored by the Jessie Allen Wise Garden Club of Jefferson, Texas, assisted by the Jefferson Lions Club. After more than half a century of production, this play has become a tradition in itself.
Join us for the 65th annual performance of the
Diamond Bessie Murder Trial
Thursday-Sunday, May 2-5, 2019
at the Jefferson Playhouse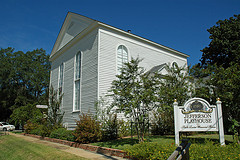 Show times: Thurs, May 2 and Fri, May 3 at 7:30 p.m.;
Sat, May 4 at 5:30 and 8:30 p.m.; and Sun, May 4 at 2 p.m.
Tickets for the 65th annual performances
will be available beginning January 2, 2019
by calling Beth Crawford at (903)665-0737.
The cost per ticket is $20.